Upgrade your day; birthday celebrations, motorized scooter rentals, private space rentals, and Santa's Cabanas are all available to help make your day even more amazing.
Complimentary Birthday Celebrations:
For children age 12 and younger, with at least two (2) days advance notice, you'll be able to celebrate in style! Birthday Celebrations include:
A custom birthday sticker
A gift from Santa himself
"Happy Birthday" song for you at the Polar Theater following one show
Please completed the required Birthday Celebration Form at least two (2) days prior to your visit and we will be ready for your special day!
Motorized Scooter Rentals
Motorized scooters are available for individuals who need assistance to get around the park. Scooters must be reserved in advance as there are limited numbers available. All scooter operators must be at least 16 years of age; one person per scooter. Please, call our business office directly at 603-586-4445 to reserve. A $35 rental fee per scooter will be collected upon arrival.
Private Space Rentals
It can be nice to have a little private space for your family to gather during a visit to the park. These tiny retreat rentals make a great escape from the hustle and bustle of Santa's Village. Located near Frosty's Freezer, each building can be rented to accommodate up to 10 people.
| | |
| --- | --- |
| 3 Hour Rental (10am-1pm or 2pm to 5pm) | $60 |
| Full Day (10am-5pm) | $109 |
Advanced reservations are required to reserve our private space rentals. To reserve, please call us at 603-586-4445.
Santa's Cabanas
Santa's Cabanas are private poolside accommodations located at Polar Paradise. Cabanas can accommodate up to six (6) people and include the following: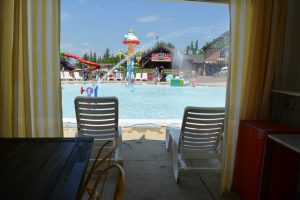 Four bottles of water
Four juice boxes
Mini-fridge
Table & chairs
Safe to lock valuables
Full day access to our water park
You'll have the option to purchase lunch at the Merry Mess Hall and have it delivered to your Cabana at a specific time as well. Please note, lunch orders must be placed prior to 11:30am.
Cabana rentals are $109/per day/per Cabana; admission to the park must be purchased separately. Payment will be taken at the time of reservation. Cabana rentals may be arranged any day prior to your planned visit, including more than a week in advance. There is a three (3) day advance cancellation policy to receive a full refund. To reserve a Cabana for your visit, please call our business office directly at 603-586-4445.