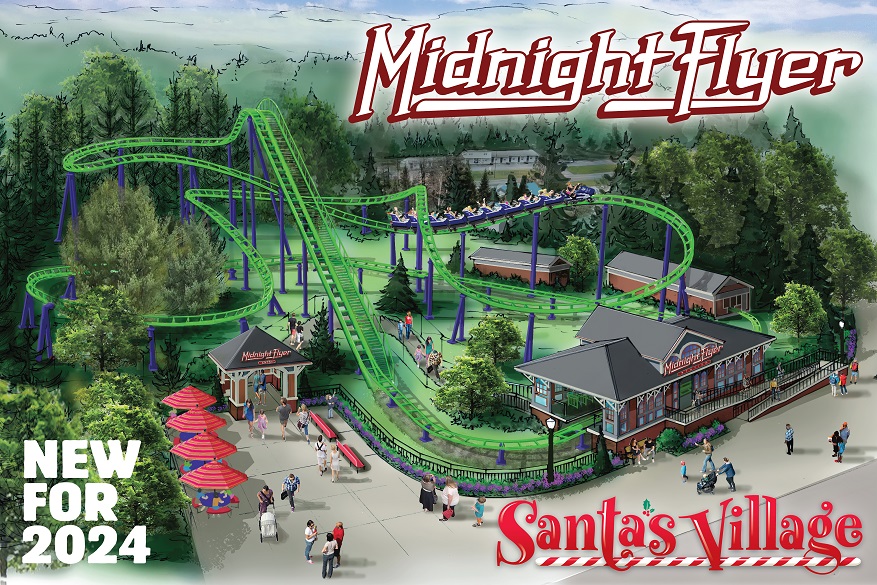 The Midnight Flyer: new for 2024
To replace the retired Rudy's Rapid Transit
The new Midnight Flyer family roller coaster is being built for 2024 on the spot where the retired Rudy's Rapid Transit used to be.  The Midnight Flyer will give riders the feel of flying with reindeer, just like Santa does to deliver presents.
Children at least 36 inches tall will be able to ride with adults, as the Midnight Flyer climbs over 40 feet before descending into a series of hops, twists, and turns at up to 25 mph.  It's about fifty percent taller, and slightly faster, than the previous coaster, and its new cars with individual laps bars will accommodate a wider range of adults and children.
The colors feature Midnight blue cars with silver trim, offset by Northern Lights-inspired green track — an ideal combination for flights originating from the North Pole.
The Midnight Flyer is being made by amusement ride manufacturer Vekoma Rides in the Netherlands, custom fit to the roller coaster site at Santa's Village.  The park plans to open the brand new family coaster in 2024, though an exact opening date has not yet been set.